Grandma's Tahini Chocolate Chip Hiking Cookies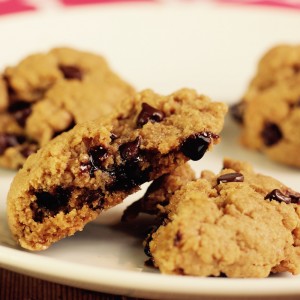 Website:
WhatTheHeckDoIEatNow.com
1 cup sugar
⅔ cup tahini
¼ cup Earth Balance
1 tbsp blackstrap molasses
¼ cup water
½ tsp vanilla
1 cup all purpose flour
½ cup spelt flour
½ tsp baking soda
¼ tsp salt
½ cup chocolate chips
⅓ cup chopped walnuts
Preheat the oven to 375 F (190C).
Using an electric mixer, combine the Earth Balance and sugar and mix until light and fluffy.
Add the tahini and molasses and mix until well incorporated.
Add your water and vanilla and mix again.
In a small bowl mix your flours, baking soda and salt.
Add the dry mix to the electric mixer and beat just to combine. Do not over mix.
Fold in the chocolate chips and walnuts.
Use a large spoon to scoop the batter into balls and place them on a prepared cookie sheet.
Flatten the balls slightly.
Bake for about 10 minutes or until the edges are golden.
Allow them to cool slightly before transferring to a cooling rack.