Artichoke Walnut Bruschetta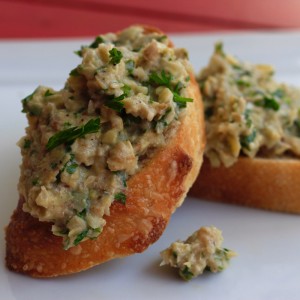 Website:
WhatTheHeckDoIEatNow.com
3 cups marinated artichokes, drained
1½ cups walnuts
1½ cups parsley
6 cloves garlic, pressed
4 tbsp freshly squeezed lemon juice
1¼ tsp salt
¼ tsp pepper
¼ cup extra virgin olive oil
½ cup water
1-2 baguettes, cut into ½ inch slices
Add the artichokes, walnuts, parsley, pressed garlic, lemon juice, salt, pepper, extra virgin olive oil and water to a food processor.
Pulse until well combined, but still chunky and not pureed.
Preheat your oven to 400 F (200 C).
Place sliced bread on a baking tray or directly on your oven rack and brown for about 4 minutes.
Remove the bread and spread the artichoke walnut mix on each slice.