Vegan Hamburger Helper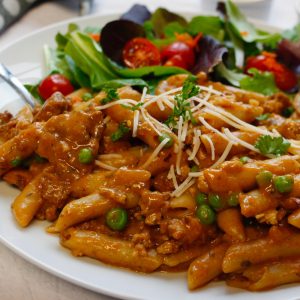 Website:
WhatTheHeckDoIEatNow.com
For the 'hamburger'
2 square blocks of tofu, drained
8 tbsp soy sauce
1 tsp cumin
¼ tsp pepper
1 tsp garlic powder
1½ tsp chili powder
1½ tbsp oil
For the Pasta:
1 tbsp canola oil
1 large onion, diced
3 cloves garlic, pressed
4 tsp dried oregano
4 tsp paprika
4 tsp dried parsley
4 tsp garlic powder
1 tsp salt
pinch cayenne
¼ cup nutritional yeast
½ cup water
3 cups unsweetened plant based milk (I use almond milk)
6 cups vegetable broth
1 can (398 ml) tomato sauce
5 cups dried penne
1½ cups frozen peas
plant based parmesan to garnish (optional)
Fresh parsley, chopped to garnish (optional)
red pepper flakes to garnish (optional)
To make the 'hamburger':
Drain the tofu well. Press with a tofu press for 10-15 minutes if you'd like to decrease the cooking time (optional).
Preheat your oven to 400 F (200 C).
Crumble your tofu into very small crumbles by hand or use a food processor and pulse (don't puree it!).
Mix the soy sauce, cumin, pepper, garlic powder, chili powder and oil in a medium sized bowl.
Add the tofu and toss until evenly combined.
Place parchment paper on a baking tray and evenly spread the seasoned tofu crumbles onto it.
Cook for 20 minutes and flip the crumbles around, evenly redistributing them over the tray and return them to the oven. Cook for another 20 minutes, remove, stir and return the crumbles to the oven for a final 10-15 minutes watching them closely. Your goal is to have the crumbles dry into a meat like texture, with some crispiness (but don't let them burn!)
Once desired colour and texture has been reached, remove from the oven and set aside.
For the Pasta:
Heat a large Dutch Oven over medium heat.
Add your 1 tbsp of oil and saute the onion for about 4 minutes.
Add your pressed garlic and saute another minute.
Add your oregano, paprika, parsley, garlic powder, salt, pinch of cayenne, nutritional yeast, water, milk, vegetable broth and tomato sauce and stir well to combine. Bring it to a boil.
Once boiling add your penne and cook according to package directions remembering to stir often to prevent sticking. Don't worry if your pot looks like it has too much liquid in it. It doesn't!
Once pasta is tender, remove it from the heat, stir your peas and cooked tofu in and allow it to sit to thicken for about 10-15 minutes.
Serve as is or add some plant based parmesan, parsley, and/or red pepper flakes to garnish.