Zucchini, Carrot, Walnut Loaf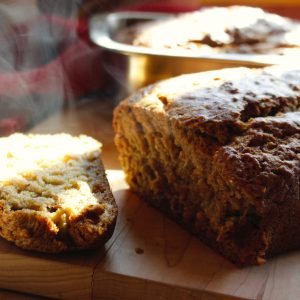 Website:
WhatTheHeckDoIEatNow.com
Adapted From:
"Easy Vegan Zucchini Bread". My Darling Vegan
⅔ cups brown sugar
1 cup granulated sugar
2 cups apple sauce
½ cup organic canola oil + enough to lightly coat the loaf pans
2 tsp vanilla extract
1½ cup sprouted spelt flour (or whole wheat)
1½ cup white flour
2 tsp baking soda
1 tsp baking powder
1 tsp salt
2 tsp cinnamon
1 tsp nutmeg
¼ tsp cardamom
2 cups finely grated zucchini (keep the liquid! Don't drain it)
2 carrots peeled and finely grated
¾ cup chopped walnuts
Preheat the oven to 350 F(175 C).
Lightly oil two loaf pans.
In a large sized bowl, whisk together the brown sugar, white sugar, apple sauce, canola oil and vanilla until well blended.
In a medium bowl, whisk together your spelt flour, white flour, baking soda, baking powder, salt, cinnamon, nutmeg and cardamom.
Add your dry ingredients to your wet ingredients and gently fold together just until blended. Do not overmix.
Add your grated zucchini, carrots and chopped walnuts and gently fold again.
Divide your batter between the two loaf pans.
Bake for about 50 minutes (check with a toothpick to ensure it's fully cooked in the middle).
Recipe by
WHAT the HECK do I eat NOW
at http://whattheheckdoieatnow.com/2018/09/05/zucchini-carrot-walnut-loaf/