Coleslaw With a Kick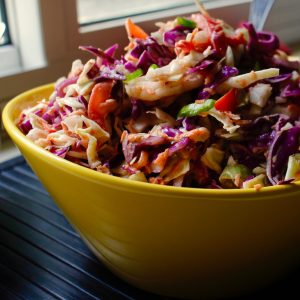 Website:
WhatTheHeckDoIEatNow.com
½ head green cabbage finely chopped
½ head purple cabbage finely chopped
2 large carrots peeled and shredded
1 large red pepper finely julienned
4 green onions finely chopped
¾ cup Vegenaise
1½ tbsp Old Bay seasoning
1½ tbsp white wine vinegar
Chop and shred your cabbages, carrots, pepper and green onion and place them in a large bowl.
In a small bowl whisk together your Vegenaise, Old Bay Seasoning and white wine vinegar. Add this to the veggies and toss well to coat.
Refrigerate and allow to chill for at least 2-3 hours before serving.