Summertime Sweet Potato and Black Bean Bowl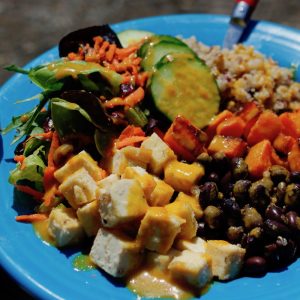 Website:
WhatTheHeckDoIEatNow.com
¾ cup white or red quinoa (or a combination of both)
1½ cup water
2 small (or 1 larger) sweet potatoes cut into ½ inch cubes
2 tbsp canola oil
½ tsp salt
1 block of tofu cut into ½ inch cubes
2 tbsp canola oil
¾ tsp garlic powder
¾ tsp onion powder
½ tsp salt
1 can of black beans drained and rinsed
salad greens
3 grated carrots
½ cucumber cut into thin slices
Dressing:
¼ cup fresh lime juice
4 tbsp maple syrup
4 tbsp grated carrots
3 cloves of garlic
4 tsp ground cumin
2 tsp salt
½ cup olive oil
Preheat the oven to 400 F (200 C)
Quinoa:
Rinse your quinoa and place it in a pot with the 1½ cups of water. Put a lid on it and bring it to a boil. Once boiling turn the heat down to a minimum and allow it to simmer for 20 minutes. Remove the pot from the burner and keep the lid on. Allow it to sit for another 10-20 minutes. Once done, remove the lid and fluff the quinoa with a fork.
Sweet Potatoes:
Peel and cut your sweet potatoes into ½ inch cubes. Place them on a roasting pan and sprinkle with the canola oil and salt. Toss to coat.
Roast them in the oven for about 20-30 minutes tossing them every 10 minutes and ensuring they don't burn. They are ready when a fork pierces them easily and they're starting to brown.
Tofu:
Heat the 2 tbsp canola oil in a skillet on medium heat and add the cubed tofu. Sprinkle on the garlic powder, onion powder and salt and toss to coat.
Cook for about 10 minutes stirring often. Once golden brown, the tofu is done.
Beans:
Rinse and drain the black beans
Salad;
Rinse and chop your greens (if needed)
Grate your carrot.
Slice your cucumber
Dressing:
Add the lime juice, syrup, carrots, garlic, cumin, salt to a small food processor or blender and blend until smooth. Slowly add the oil while the blender is running on low. Refrigerate dressing until ready to use.
Assembly:
Add your greens to one side of a shallow bowl. Add some grated carrots and sliced cucumber. Place a few spoons of quinoa next to the salad, then sweet potatoes, black beans and tofu. Using a spoon, drizzle the dressing over the whole thing. Repeat.
Dig in!!