Spicy Indian Scrambled Tofu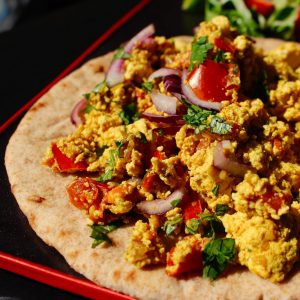 Website:
WhatTheHeckDoIEatNow.com
1.5 tbsp organic canola oil
½ tsp whole cumin seeds
¼ tsp whole fennel seeds
½ small/ medium jalapeno pepper, seeds removed diced
1 inch of ginger grated
5 large cloves of garlic, pressed
1 large red onion diced (save some for garnishing at the end)
2 tomatoes, seeded and diced
1 tsp coriander powder
¾ tsp pav bhaji spice (available at any Indian grocer or online)
½ tsp turmeric powder
¼ tsp red chile powder
¾ tsp salt
350 grams firm or extra firm tofu drained
2 tbsp cilantro chopped (+ some for garnishing at the end)
1 tbsp lemon juice, freshly squeezed
Naan bread, 4-5 pieces. (We have commercially prepared vegan options at our local grocery store)
Prepare all of your ingredients before you start cooking.
Heat a large frying pan over medium heat. Once hot, add your canola oil.
When the oil is hot, add your whole cumin and fennel seeds and allow them to sizzle for about 30 seconds.
Add your chopped onion and cook for another 3-4 minutes.
Add your jalapeño, ginger and garlic (I give these all a quick blitz in the food processor to avoid the pressing, chopping and grating.) Cook for about a minute.
Add your chopped, deseeded tomatoes and stir to combine. Cook for 5 minutes until softened.
Add your coriander, pav bhaji masala, turmeric, chile powder and salt. Stir to combine.
Crumble your tofu right into the pan with your hands (no need to press it first). Stir and cook for 2-3 minutes until well combined.
Turn off the heat and add your lemon juice and cilantro.
Adjust salt if needed and sprinkle on a bit more pav bhaji if you like it hot.
Serve on naan bread.
Garnish with sliced red onion and cilantro.