Vegan Bulgogi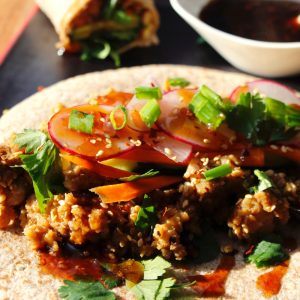 Website:
WhatTheHeckDoIEatNow.com
¾ cup walnuts
454 grams plain tempeh (2 rectangular packages)
MARINADE:
4 tbsp sugar
1 small apple peeled and grated finely
6 cloves of garlic
2 tsp ginger
2 tbsp mirin
2 tsp sriracha (use less if feeding kids)
⅓ cup soy sauce
2 tbsp sesame oil
The rest:
1 tbsp of oil for cooking
1 tbsp cornstarch mixed with 4 tbsp water
sesame seeds
wraps
cilantro
3 carrots cut into thin matchsticks
½ cucumber cut into matchsticks
4 radishes sliced into thin rounds
2 green onions thinly sliced
Prepare the marinade ingredients in a small dish by adding your sugar, grated apple, pressed garlic, ginger, sriracha, soy sauce and sesame oil. Whisk to combine.
Add your tempeh to the marinade and allow it to sit for at least an hour.
Put the walnuts in a food processor and pulse about 20 times until they are broken up into small bits (but not fully pulverized.) Set aside.
Chop your toppings: cilantro, carrots, cucumber, radishes and green onion.
Heat a cast iron pan to medium high and add a tbsp of oil. You want the pan to be quite hot in order to brown your tempeh and add flavour.
Remove your tempeh from the marinade (save it!) and crumble it by hand into the hot cast iron pan. Add your chopped walnuts. Cook for about 10 minutes, stirring every 2 minutes or so allowing the mixture to brown and get crispy bits.
Meanwhile pour the marinade into a small saucepan and warm it over medium high heat. In a separate small dish mix the cornstarch and water until well blended and add to the saucepan with the marinade. Continue stirring until mixture thickens in 2 or 3 minutes.
Turn off the heat to tempeh/ walnut mix and add the marinade to the pan stirring to coat evenly.
Sprinkle with sesame seeds.
Serve bulgogi mix on a warmed wrap and top with cilantro, carrots, cucumber, radishes and green onion.
Enjoy!