Tarragon Roasted Asparagus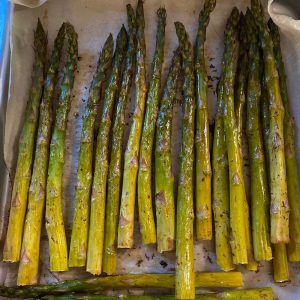 Website:
WhatTheHeckDoIEatNow.com
1 bunch of asparagus, tough ends removed
DRESSING:
4 tsp olive oil
2 tsp balsamic vinegar
¼ tsp salt
1 clove garlic, pressed
2 tsp fresh tarragon or ¾ tsp dried
Preheat oven to 400 F.
Whisk all dressing ingredients together in a bowl.
Toss asparagus in bowl until well coated.
Arrange asparagus on a baking sheet.
Bake for about 20 minutes turning a couple times.