Thai Curry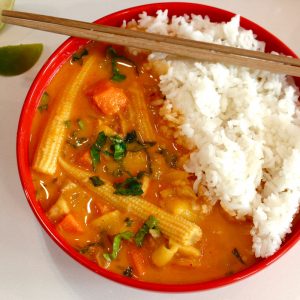 Website:
WhatTheHeckDoIEatNow.com
For the Tofu:
1 block of firm or extra firm tofu, well drained and cubed
1 tbsp olive oil
1 tbsp soy sauce
1.5 tbsp corn starch
For the Curry:
1 tbsp Coconut Oil
I small onion chopped into larger bite sized pieces
3 cloves garlic, minced
1 tbsp fresh ginger, grated
3½ cups vegetable broth
1 tsp salt
2½ tbsp Thai Kitchen red curry paste
1 large sweet potato cut into larger bite sized chunks
1 can full fat coconut milk
1 tbsp agave
2 handfuls spinach chopped
2 peaches cut into thin slices
1 can of baby corn
2 tbsp freshly squeezed lime juice
Chopped Thai Basil to garnish (optional)
Cooked rice for serving
For the Tofu:
Preheat the oven to 400 F (200C).
Using a tofu press, press your tofu for about 10 minutes to remove extra moisture.
Remove from press and cube.
Add your cubes to a medium mixing bowl.
Drizzle 1 tbsp olive oil and 1 tbsp of soy sauce over tofu and toss well to combine.
Sprinkle the cornstarch over the tofu and again to toss well.
Transfer the tofu to a baking pan and bake for about 25 minutes, flipping the tofu at the halfway mark.
Remove from the oven and set aside.
For the Curry:
Heat your coconut oil in a large pot or Dutch Oven.
Add your chopped onion and saute for about 5 minutes.
Add your pressed garlic and grated ginger and sauce for another minute.
Add your broth and salt, cover and bring to a boil.
Lower the heat and add your Thai red curry paste and sweet potatoes. Allow it to simmer for about 15 minutes until sweet potatoes are fork tender.
Add your can of coconut milk, agave, chopped spinach, can of baby corn and sliced peaches. Bring it just to a low boil and remove from heat. Add freshly squeezed lime juice and chopped basil (if using).
Serve with rice.