Pumpkin Spice Pancakes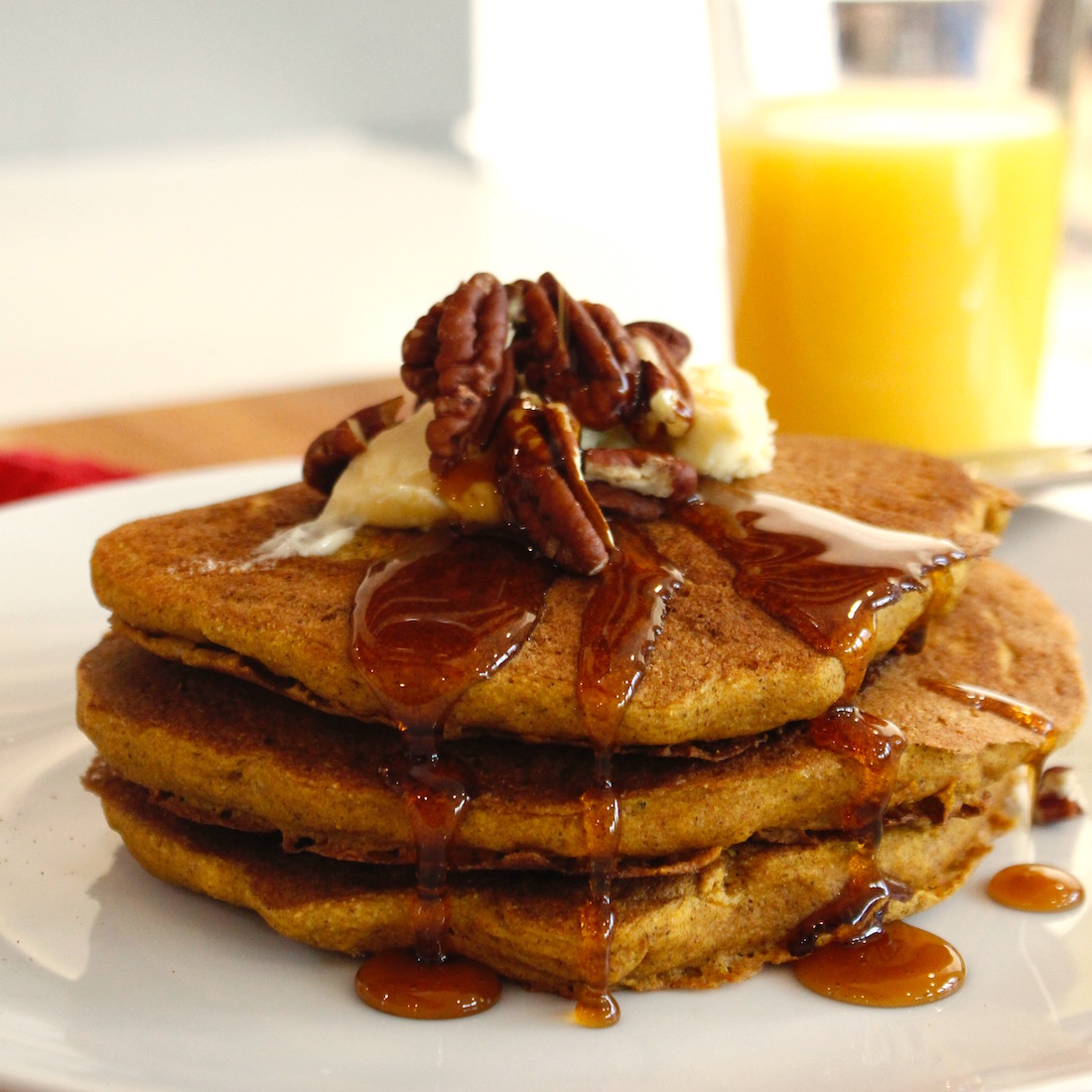 Website:
WhatTheHeckDoIEatNow.com
1½ cups soy milk
2 tbsp apple cider vinegar
1 cup pumpkin puree
2 tbsp canola oil
1 tsp vanilla
1 cup all purpose flour
1 cup spelt flour
3 tbsp brown sugar
2 tsp baking powder
1 tsp baking soda
1 tsp allspice
1 tsp cinnamon
½ tsp ground ginger
½ tsp nutmeg
½ tsp salt
toppings:
maple syrup
vegan butter (optional)
coconut whip cream (optional)
pecans, chopped (options)
In a medium sized bowl combine your soy milk and apple cider vinegar. Set it aside for 5-10 minutes (while you gather your remaining ingredients) and allow it to curdle.
Once curdled add your pumpkin, oil and vanilla and stir well to combine.
In a large bowl whisk to combine your all purpose flour, spelt flour, brown sugar, baking powder, baking soda, allspice, cinnamon, ginger, nutmeg and salt.
Add your wet ingredients to this large bowl and with a spatula stir just to combine. Do not overmix.
Heat a cast iron frying pan (or 2) over medium heat on the stovetop.
Once hot spray with a thin layer of oil.
Add ½ cup pancake batter per pancake to the pan(s). Immediately shake the pan to allow the batter to spread out so the pancakes don't need up too thick.
Cook for about 2 minutes and when golden brown, flip.
Cook for another 3 minutes.
Repeat.
Serve hot with your choice of toppings; maple syrup, butter, pecans and/or coconut whip cream.